Entercom reported fourth quarter 2108 net revenues of $411.4 million, up from $246.6 million in 2017. On a same-station basis, Q4 net revenues increased 4% to $411.4 million compared to...
Read more...

RADIO.COM Adds Audio Content From Cox Radio, Bonneville
RADIO ONLINE News
02-22-2019 13:44
Entercom announces content distribution partnerships with Cox Radio and Bonneville. As part of the agreements, RADIO.COM will launch live channels for all Cox Radio and Bonneville radio stations, while adding...
Read more...

Nicole Siberry Named Digital PD of WMGK and WXTU Philly
RADIO ONLINE News
02-22-2019 11:59
Beasley Media Group has just announced Nicole Siberry as Digital Program Director at WMGK-FM and WXTU-FM in Philadelphia. She officially began her new position on Monday, February 18. Siberry was...
Read more...

Redrock Broadcasting Expands with Veteran Broadcasters
RADIO ONLINE News
02-22-2019 12:19
Redrock Broadcasting adds veteran broadcaster Brandon Young as Program Director of CHR KURR-FM (Mix 103.1)/St. George Market area. He joins Redrock from Alpha Media's KYKX-FM/Tyler-Longview, TX. In addition to his...
Read more...

The National Association of Black Owned Broadcasters (NABOB), a trade organization representing the interests of African-American broadcast owners, and Personal Selling Principles (PSP) have announced NABOB's "2019 Webinar Learning Series"...
Read more...

Kenzie K Joins WBBM-FM (B96) Chicago as Midday Host
RADIO ONLINE News
02-22-2019 12:36
Kenzie K is named the new midday host for Entercom CHR WBBM-FM (B96) Chicago weekdays from 10am-2pm, effective February 26. Prior to joining Entercom, Kenzie K hosted the midday slot...
Read more...

The Broadcasters Foundation of America (BFA) has announced a new time for this year's Philip J. Lombardo Charity Golf Tournament. Attracting an A-List of broadcast industry executives, the charitable event...
Read more...
Tenderfoot TV and podcast company Cadence13 have announced that journalist and Rolling Stone contributing editor Neil Strauss will host the new true crime podcast, "To Live and Die in LA."...
Read more...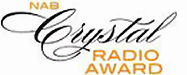 2019 NAB Crystal Radio Awards Finalists Announced
RADIO ONLINE News
02-21-2019 12:21
The National Association of Broadcasters announced the 50 finalists for the 32nd annual NAB Crystal Radio Awards. Since 1987, the NAB Crystal Radio Awards have recognized radio stations for their...
Read more...

Max Media/Denver Names Boogie D as PD of KFCO and KJHM
RADIO ONLINE News
02-21-2019 16:43
Max Media/Denver appoints 20-year industry veteran Jowcol "Boogie D" Dolby as Operations and Program Director overseeing KFCO-FM (Flo 107.1) and KJHM-FM (Jammin 101.5) beginning March 11. Prior to joining Max...
Read more...